Shipping Best Practices
Carrier Service Descriptions
Preparing Your Mail
Careful preparation of your mailpiece helps to ensure accurate and safe delivery.
ENVELOPES AND BOXES
---
Letters, Greeting Cards, and Other Documents
These can be sent in standard white, manila, or recycled paper envelopes. Items needing extra protection can be sent in bubble-lined, padded paper, or waterproof envelopes.
Boxes
Sturdy paperboard boxes may be used for weights up to 10 pounds. Heavier parcels require a sturdy grade corrugated fiberboard. If you are reusing a box, cover all previous labels and markings with a heavy black marker or adhesive labels.
Cushioning
Boxes should allow enough room for cushioning materials around the contents. You can use newspaper, foam peanuts, bubble wrap, or shredded paper for cushioning. For more fragile items, use foamed plastic or padding, placing the cushioning inside hollow items as well.Wrap each item separately. Fragile articles need both suitable separation from each other and clearance from the corners and sides of the box. Each item should be surrounded by at least two inches of cushioning and be placed at least two inches away from the walls of the box. This will prevent product-against-product damage and protect the contents from shock and vibration, which can pass from the outside of the box to the contents.

*Proper cushioning material, combined with a strong outer container, will protect your shipment. Use enough cushioning material to ensure that the contents cannot move when you shake the box.
Sealing
Make sure to tape the opening of your box and reinforce all seams with 2-inch wide tape. Use clear or brown packaging tape, reinforced packing tape, or paper tape. Do not use cord, string, or twine because they can get caught in mail processing equipment.
ADDRESSING
---
Address Quality
Quality addressing is the key to achieving accurate and speedy delivery.
Placement
Print the delivery and return addresses on the same side of your envelope, card, or parcel. The addresses or address labels should be written or placed parallel to the longest side.
Return Address
A return address helps return your mailpiece to you if it is undeliverable. Some mailing services require a return address.
ZIP Codes
Using the correct ZIP Code ensures efficient and accurate processing and delivery.
Marking
If you deposit your mail in a mailbox or a collection box, you must write in the postage area of your mailpiece the name of the service you are using, such as "Priority Mail," "Parcel Post," "Bound Printed Matter," or "Media Mail." If you go to your post office, the clerk will make service markings on your mailpiece for you.
Military Mail
Military addresses must show the full name with middle name or initial and PSC number, unit number, or ship name. Replace the city name with "APO" or "FPO," and the state with "AA," "AE," or "AP," and use the ZIP Code designated by the military.
Address Lists
Address or mailing lists can be purchased from a mail service provider if you don't maintain your own. Lists should be checked and certified for address quality to ensure the highest rate of successful delivery.
UNDERSTANDING YOUR MAILPIECE SHAPE
---
Domestic Carriers classifies the shape of your mailpiece by its dimensions.
PostCard Dimensions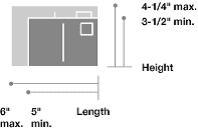 Minimum: length 5 inches height 3-1/2 inches thickness 0.007 inch
Maximum: length 6 inches height 4-1/2 inches thickness 0.016 inch
Letter Dimensions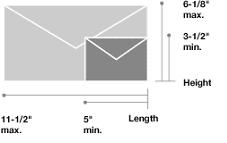 Minimum: length 5 inches height 3-1/2 inches thickness 0.007 inch
Maximum: length 11.5 inches height 6-1/8 inches thickness 0.025 inch
Flat Dimensions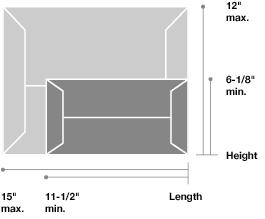 Minimum: length 11.5 inches height 6-1/8 inches thickness 0.025 inch
Maximum: length 15 inches height 12 inches thickness 0.075 inch
Parcel Dimensions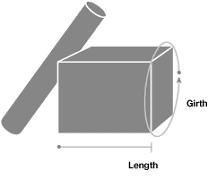 Length: the longest side of the parcel
Girth: measurement around the thickest part of the parcel
Length + Girth: Add Length and Girth measurements together to obtain total package size.
Dimensional Weight
---
Dimensional weight is a standard formula used throughout the air-freight industry that considers density when determining charges. The calculations are used to consider the amount of space a package will take up on an aircraft in relation to the actual weight of the package.
To determine the dimensional weight of a package: A. Multiply the package's length by the width by the height (round each number to the nearest whole inch). The result is the cubic size of the package.