eBays Online "Sell Your Item" Form
Special Note: As of 9-01-08, eBay has instituted a policy requiring sellers to insert their
calculator (or a fixed rate) into your listing. This policy in no way prevents you from inserting
our AiShip calculator into your listings. Our suggestion is that you use the eBay calculator to
insert one shipping rate, and then use aiShip for all others. If you are a FedEx or DHL shipper,
we suggest you insert one UPS rate, and then substitute the appropriate FedEx or DHL service
should you offer ebay checkout and your customer selects the UPS rate.

The strategy described below for the selection of shipping method in the eBay "Sell Your Item"
form is superceded by the one above.
Please paste the HTML into the item Description window ("HTML" tab) located in the eBay Listing page.
You may format the rest of the description any way that you wish, but the Shipping Calculator HTML
must be present in order for the calculator to appear in your auction. Make certain you enter our
calculator HTML into their HTML Description tab, not the "Standard" tab.



Next, in the "Shipping" section please select "Calculated" from the Shipping Dropdown. Then,
select any Package type, and any weight from the dropdowns below, and finally,
DO NOT SELECT any services from the "Services" dropdown.
On your listing page, in the "Shipping Costs" section at the top of the listing, ebay will enter:
"Check item description and payment instructions or contact seller for details." In your
Description section, of course, will be our calculator.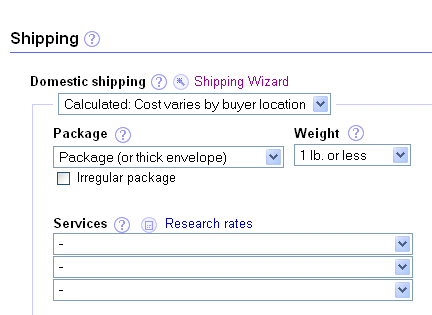 You can complete the rest of the form the way that you would normally.