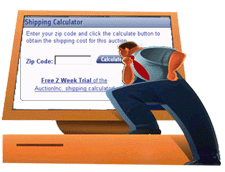 Auction Inc's tools for selling online provide the easiest and fastest method to increase your sales and decrease your overhead. Use aiShip to reduce tedious correspondence, increase customer satisfaction, and eliminate the Age Old question: "How much will it cost to ship?"
Simply 10 cents per auction! (up to a maximum charge of $19.50 per month).
There are no fees for calculator hits. You simply pay 10 cents for each of your auction listings. If you calculate this cost into your configurable packaging and handling costs, the calculator is free!

Please click here to learn more about aiShip.